Ursula Sytnyk
Gr. 7-8 Humanities Teacher; High School Drama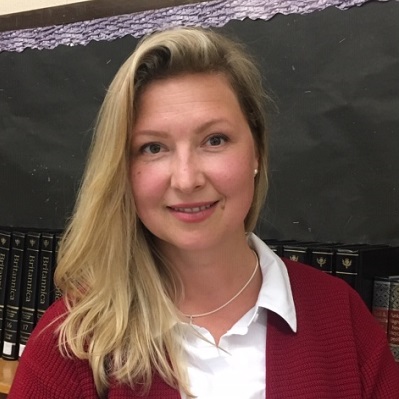 Biography
URSULA SYTNYK
has been an educator since 2003. Her mind and heart have long been pulled toward classical liberal arts education, which led Ursula to homeschool her three children from pre-K to grade 7.  She dug deep into the theories and practices of classical education and continues to foster the pursuit of truth, goodness, and beauty in her students. She has taught at the college level for nearly 20 years, instructing students in the mortgage brokering field and has served as a substitute teacher in the Peterborough area in grades K - 12.
As Board Chair at the Trent Valley Literacy Association, Ursula is devoted to cultivating literacy skills in the community. She is an admirer of the works of C.S. Lewis and continues to grow in her appreciation for the Great Books of the Western World.
When not teaching, you might find her attending St. Anne's parish with her family, struggling to keep her garden alive, reading aloud to her children or reheating a lukewarm cup of tea. 
Subjects
Gr. 7 & 8 Humanities; High School Drama
Education
Master of Education - Athabasca University ~ Bachelor of Arts  (Major: English Literature, Minor: Theatre Arts) - York University ~ Mortgage Broker's Program Certificate - Seneca College ~ Correctional Worker Diploma - Centennial College ~