Nicolas DuBonnet
High School Theology & Physical Education Teacher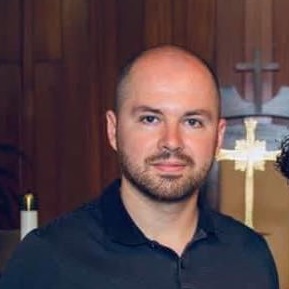 Biography
NICOLAS DUBONNET
Nicolas was born and raised in North Bay, ON. He met his wife, Anna-Michelle, at the local high school youth group formed by her parents. They were married in December 2013. They have three beautiful girls under the age of 6, and their fourth is due late November 2021.
Before joining Wayside, Nicolas was part of the youth ministry at St. Alphonsus Liguori Parish in Peterborough, ministering to students from age 5 to young adult for 6 years. Nicolas loves learning more about the faith and sharing it with all that have an open ear. He also loves talking tech, video games and telling terrible dad jokes.
We're beyond happy to have Nicolas teaching with us.
Subjects
High School Theology K-12 Physical Education
Education
Advanced Diploma in Computer networking CSTyN, Canadore College ~ PSW Certificate, Sir Sanford Fleming College ~ Certificate in Theology of the Body, Sacred Heart College ~ Certificate in Youth Ministry, Life Teen International ~ Currently pursuing an Honours degree in Biology at Trent University.