Sr. Mary Augustine
Sacred Music & Latin Teacher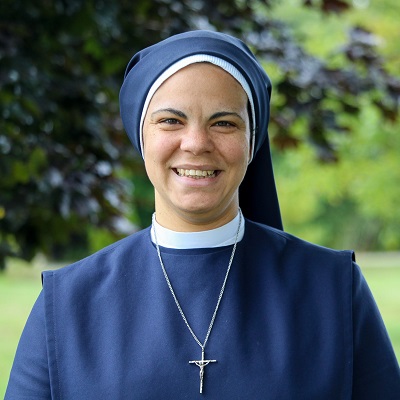 Biography
Sister Mary Augustine Hardy, SOLI, was raised in Saint John, NB, where, for many years, played both the violin in the local orchestra, and the alto saxophone, in both concert and jazz bands, participating annually in the New Brunswick Competitive Festival of Music for many years. While studying at Seat of Wisdom College, she studied Sacred Music Conducting, and since 2008, has served as choir director for her religious community. She has been conductor of the Sparrows Children's Choir at Immaculate Conception Parish in Port Perry since September of 2018.
Subjects
Kindergarten to Grade 3 Sacred Music, Latin
Education
Masters in Theology (Concentration in Evangelization and Catechetics with Advanced Apostolic Catechetical Diploma), Christendom College, 2016; B.A., B.Ed. (French Major), Redeemer University, ON 2013; Basic Certificate of Christian Humanities, Seat of Wisdom College, Barry's Bay, 2009.